DVD: 3 Secoli, 4 Mani, 1 Pianoforte
Executive Producer: SferMusic
(International Cultural Association of Music and Art, no profit)  LBP00211
www.sfermusic.com
Cast: Laura & Beatrice PUIU, piano duo, Giulio PASSADORI Academy Steinway, Giovanni DORIA, Strinasacchi Verona-rappresentante per l'Italia di Steinway & Sons.
Composers: W. Amadeus Mozart, Claude Debussy, Edward Grieg, Sergej Rachmaninoff, Fazil Say.
Recorded at Saloni Espositivi/Passadori Pianoforti di Brescia – December 2009
Pianos by Steinway & Sons:
N.1 (Metropolitan Museum of NY), Square Piano, Theodor Piano (Passadori Collection), Piano Fancy Grand Style n.4 (Count Gotz von Berlichingen)
Piano technician: Giulio Passadori
Recorded by: Studio 8:05 VR
Language: italiano
Subtitles: English, Deutsch, Francais, Romana, Chinese.
Bonus-Special content
Made in the E.U.
Per ricevere il DVD scrivi a   info@sfermusic.com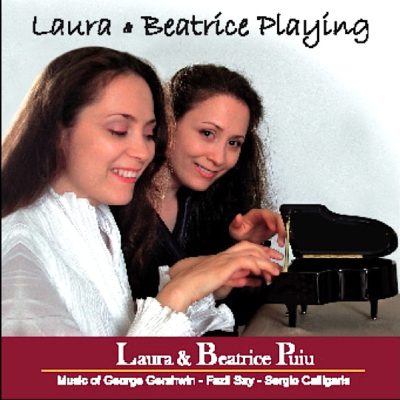 Artists: Laura & Beatrice PUIU, piano 4 hands Composers: Sergio Calligaris, Fazil Say, George Gershwin. – Paganini jazz  (arr. by Laura Puiu) – Parafrasi da concerto Op. 16 – Rhapsody in Blue  (arr. by Henry Levine) – Black Earth  (arr. by Laura Puiu) Executive Producer: SferMusic (International Cultural Association of Music and Art, no profit),  LB00108. Recorded […]
READ MORE